Top 10 Business Ideas for Women in Manipur
Top 10 Business Ideas for Women in Manipur
Manipur is India's entry portal into the Northeast through the small and quaint towns and villages situated here. Manipur is such a fantastic place where you can start with so many business startups and opportunities. The economy is based on agriculture, tourism, mining, and also industries. The handloom industry is the largest in Manipur. The various crops grown in the region are pulses, maize, and wide ranges of fruits and vegetables.
Here, you will find the highest number of both skilled and unskilled men and women. In this blog, we delve into some innovative business ideas for women. Several small-scale businesses for ladies are supported by the Government of Manipur.
The Manipur Government is also trying its best to promote the Industrial Policy to meet the requirements of private sectors in the State. Home business for ladies is also a profitable venture for them. They can stay home and earn profits by giving genuine products to the customers and contribute a significant share to the state's economy.
Most Profitable Business in Manipur
Provided below are some of the popular and doable business ideas in Manipur for the locals:
1. Ecotourism sector in Manipur
Manipur is famous for its tourism sector, and the ecotourism sector is the best business in Manipur. Likewise, the tourist season is mainly from October to February, with the weather being pleasant. Women with an interest in travel and knowing ecotourism can start with this most profitable business in Manipur.
Ecotourism makes up almost 6% of GDP in the world. Apart from simply holidays, it is meeting wildlife and coming close to nature. Keibul Lamjao National Park, located in Manipur, is the only floating national park in the world.
2. The crafts making business
Crafts business is a unique homemade business idea for women of Manipur. A woman with a hobby of decoration and making crafts can take up this business idea. Manipur is simply rich in handicraft. Innovative home and office decoration supplies are in high demand and will always be required.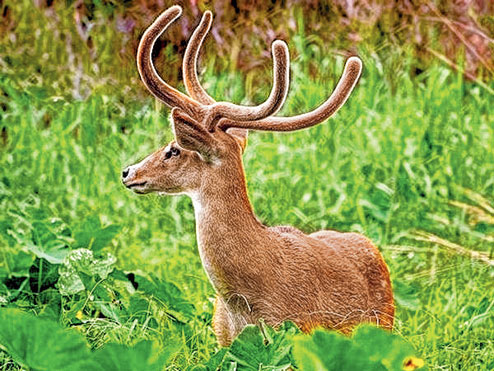 3. Soap making business
It is an excellent business for ladies sitting at home because the soap-making industry falls under the craft sector. Besides, the company can be run efficiently by women from their homes. It doesn't require much capital investment, just some raw materials for soap-making.
It is truly a profitable side business idea for ladies. Handmade soap is created for so many women in Manipur. People are shifting to handmade soaps because the commercial ones have lots of toxic chemicals present in them.
4. Jewellery making business
It is yet another best business in Manipur for women. Secondly, it is becoming easy for women to sell jewellery online. A person knowing current trends and a creative mind can start with this business. Women must do proper research of the market to understand the trends going in the market.
5. Handloom industry
Textiles have been the rich source of traditions, and Manipur follows the tradition willingly. Likewise, in Manipur, the handloom industry has been the source of livelihood since times immemorial. The skill of handloom weaving is an inherited skill of the women in Manipur. It generates maximum revenue for the womenfolk in Manipur.
The handloom industry is the largest in Manipur especially made from local resources.

Read More About Handloom : Manipur Handloom and Textiles
Manipur Handloom and Handicraft Department corporation and the State Government are trying out ways to market handloom products. The handloom industry is the best business idea for women in Manipur because they have the required skills for it.
6. Bamboo industry
Manipur is rich in bamboo production, and the womenfolk are involved in the bamboo industry. It helps in enhancing employment opportunities for artisans and diversification of products. Bamboo is an integral part of the traditional cuisine in the North Eastern States. It is an excellent small scale business for ladies in rural areas.
It is eaten either dried, fresh, or pickled. Bamboo sustains the lives of the women in Manipur.
7. Fruits and vegetable exporter
The climate of Manipur is suitable for horticulture in the region. Further, the soil helps in the growth of certain rare and exotic medicinal plants. It is the best business in Manipur because it understands the necessity of fruits and vegetables in households. Some of the aromatic products grown in the soil are cashew nuts, walnuts, lemons, papayas, peaches, plums, etc.
Growing fruits and vegetables is a good home business for ladies.
8. Online photo selling
The scenic beauty of Manipur is magnificent, and people love clicking lots of pictures while gazing at the beauty in awe. There is a huge demand for expert photographers in Manipur. Women can take up the job and work towards giving only the best to all the customers.
Photography is a hobby for so many people, and they can convert it into a profit-making side business idea for ladies. You can create your blog and make good money.

Read related Articles: Manipuri woman is breaking the glass ceiling in carpentry
9. Food processing industry
The food processing industry hugely runs Manipur as it plays a role in diversification with agriculture, horticulture, etc. The Government is also trying to develop the food industry by taking schemes under the central sector schemes. The Government of Manipur is also planning an initiative of opening a food park at Nilakuthi. Many women will be employed there, and so many can start their food business from the garden. There is a food project with standard facilities like cold storage given to the employees to protect the perishable items.
10. Candle making and curio shop
An aromatic candle is one of the best ways to soothe the mind and body. Women in Manipur have started the home-based business of candle making. They can also train those who are interested in pursuing this craft. They make scented candles at home and sell them to customers. After earning some money, women can start their small candle-making factory to make more products.
If you have a keen interest in collecting antique pieces, you can start with a curio shop. Collect all traditional handlooms of Manipur. Sell these kinds of stuff to the people who have an interest in ancient art.
Final Thoughts
Sericulture, agriculture, pottery, bamboo industry, etc., are some prominent small business ideas for women in Manipur. Besides, to provide investment in Manipur, the Government has come up with the idea of the single window facility. The single window facility offers a "Green Channel Committee" to provide investments to all the concerned departments. The state-level single window agency approves all the projects generating $9.2 million. It is essential in industries like tourism, IT, biotechnology, food processing, etc. It depends on what kind of business the women are willing to start. If it is a home-based job, they can create it with minimal capital.

Read more about SEO Tips: The Problem of Free Websites